Tupelo
Regular Price

$24.89
Sale Price

$24.89

Regular Price

$44.89
Unit Price

per
Details
Features:
🤗【Fashionable cat ear design】 Our blue light blocking glasses have a fashionable retro cat ear design. The frame is made of high-quality metal materials. The first-class craftsmanship makes them have attractive slender lines and extremely light characteristics. The smooth metallic color brightens your appearance, and the metal frame is ultra-thin and flexible. It provides excellent anti-blue light protection while giving you a sense of fashion.


🤗【Product size】Lens height: 53mm (2.08inches) | Lens width: 57mm (2.24inches)| Frame: 138mm (5.43inches) | Nose bridge: 20mm ( 0.78inches) | Temple length: 145mm (5.7inches)

🤗【Provide long-term protection】Anti-blue light glasses can help you feel relaxed after a long day of work. When you wear this blue light filter, you can feel your eyes relax anytime, anywhere. Glasses can reduce visual fatigue and discomfort caused by long-term surfing, gaming and working under fluorescent lights, and have the effect of protecting and reducing glare.

🤗【Low chromatic aberration lenses】Our anti-blue light glasses use low chromatic aberration lenses to restore the real world. Unlike other blue light blockers with dark and light lenses on the market, you can see and perceive the color world more clearly. Our low chromatic aberration lens has been optimized to achieve the perfect balance between eye protection and improved viewing quality.

🤗【30-day money-back guarantee】 You don't have to worry about buying Duco anti-blue glasses. If you are not satisfied after receiving the glasses, please do not hesitate to contact us at any time, we will refund you unconditionally or provide you with return and exchange services.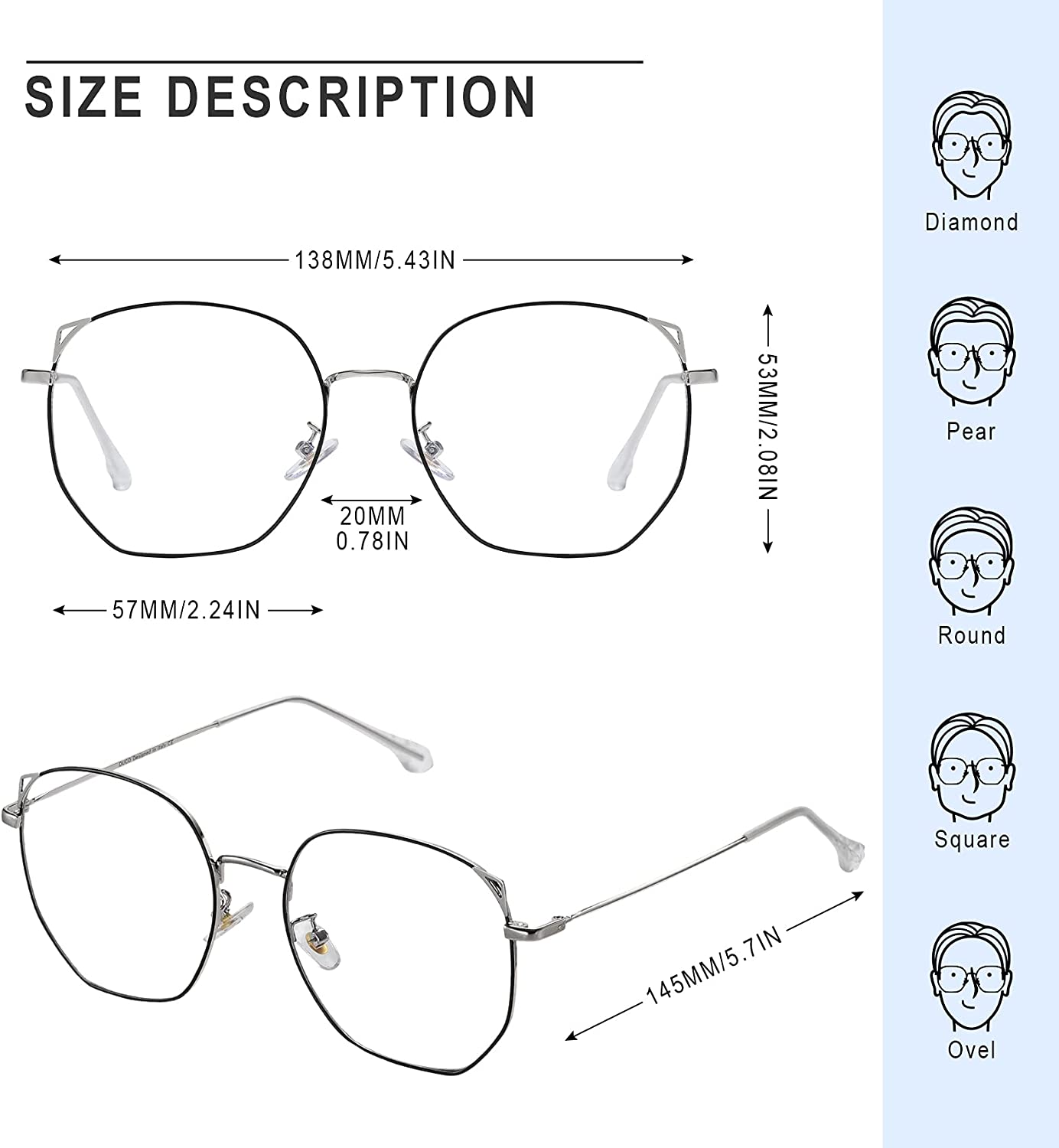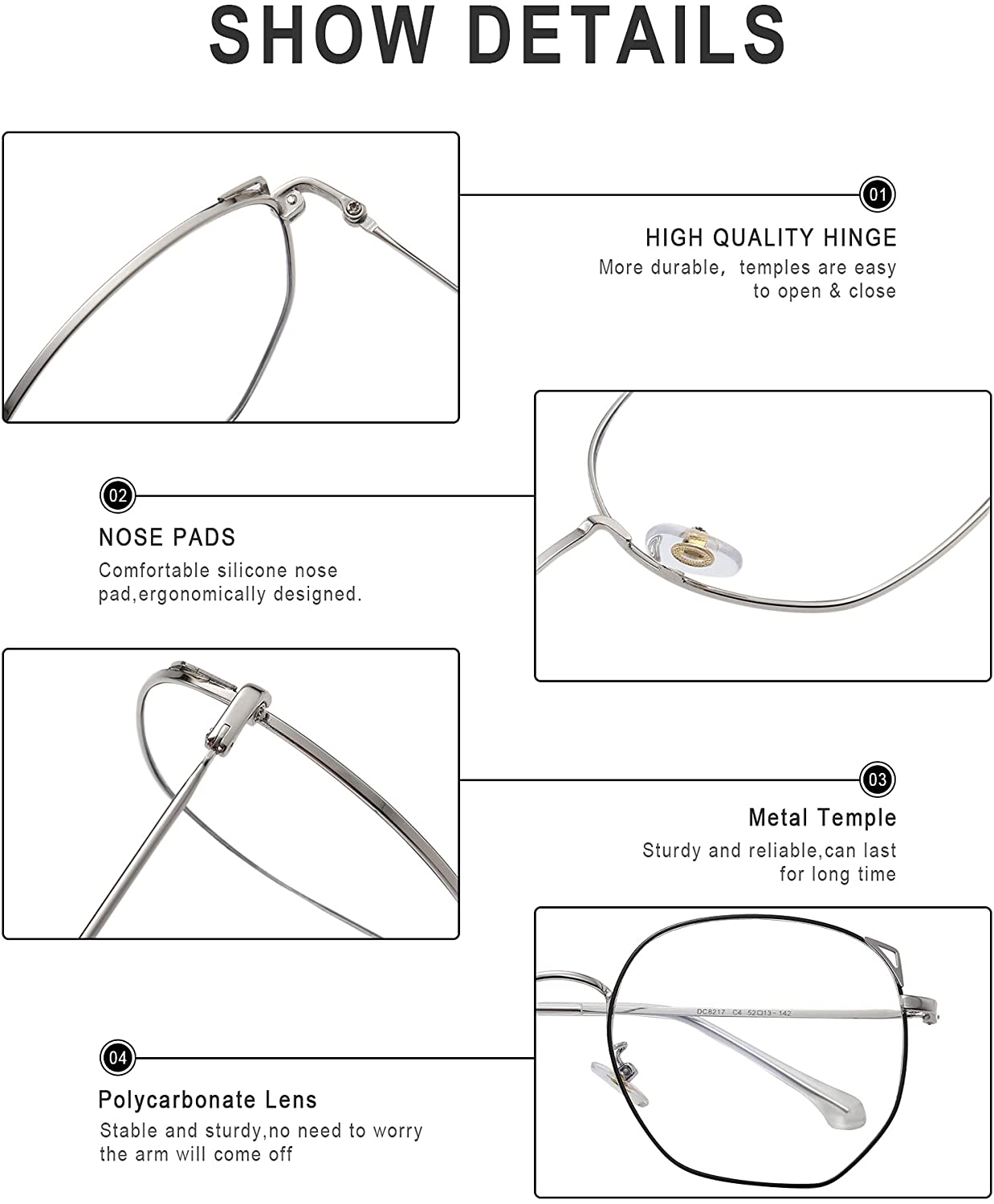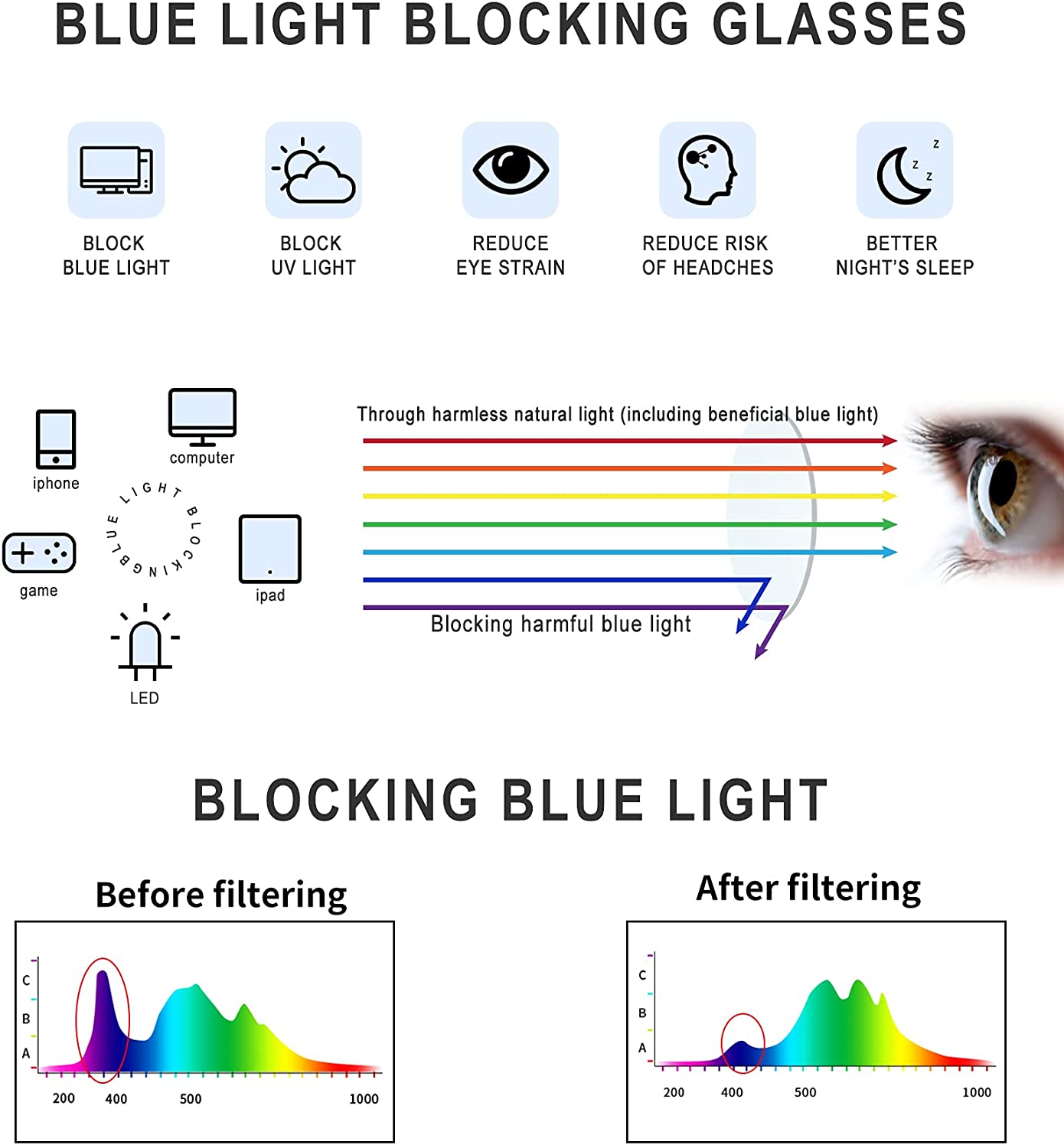 Unlike typical blue blocker lenses which have a very noticeable yellow or orange tint, DUCO lenses comes with a a super hydrophobic anti-reflective coating, the clear blue-light-blocking lenses with only a slight tint.
Long time exposure to blue light would lead to digital eye fatigue. Wearing your blue light glasses, no more tired eyes. Reduce eye strain and sensitivity to light when facing digital screens. Great for office workers or anyone who has to look at screen all day.
Prolonged exposure to high-energy visible (HEV) blue light can lead to eye strain and blurred vision. DUCO blue blocker lenses reflect and filter the blue light emitted in artificial light.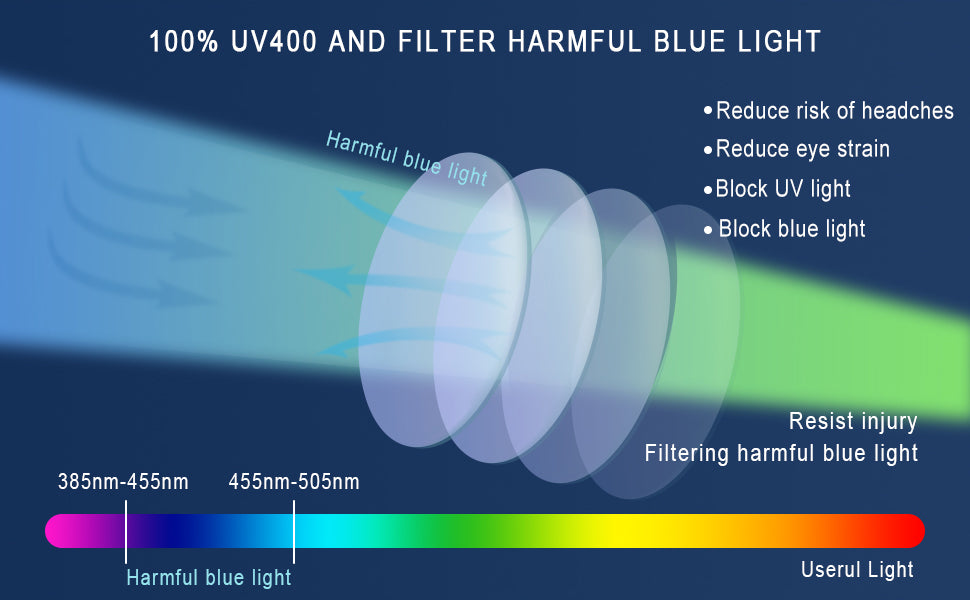 How do DUCO blue light blocking glasses help you?
First, Protect the Eyes!
DUCO blue light blocking glasses reduce eye strain, reduce eye fatigue, and improve work efficiency.
Second, Soothe the Screen
Do you suffer headaches from too much screen time?
DUCO blue light blocking glasses make screen time easier on the eyes by--you guessed it!--blocking the detrimental blue light without interfering with normal vision.
Third, Relax!
DUCO blue-blocking lenses reduce blue-light-induced trouble sleeping.
While the unfiltered light from most screens tends to disrupt melatonin production and circadian rhythms, DUCO glasses block the brain-confusing colors, thus helping ensure restful sleep.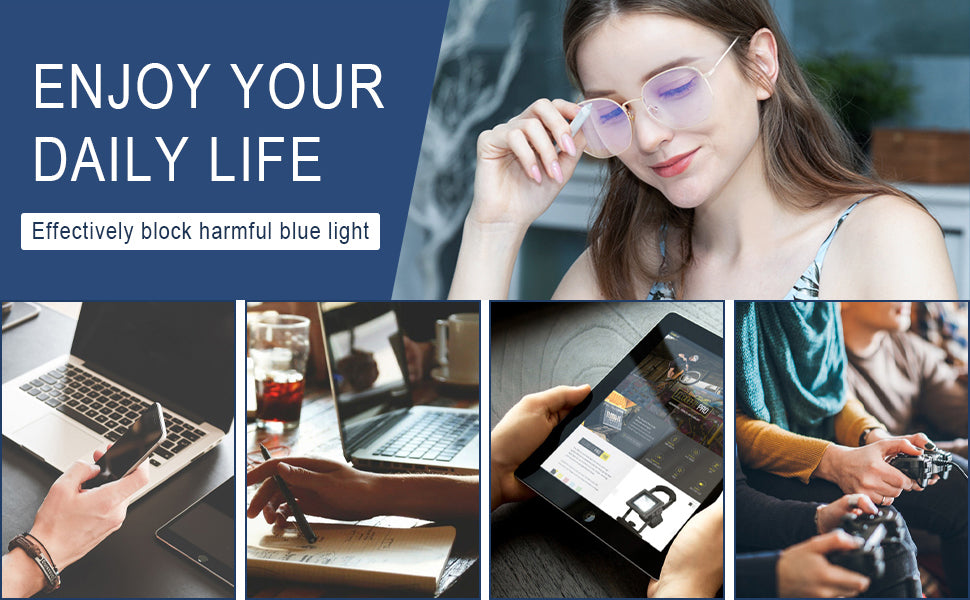 Here are 5 Reasons You're Going to LOVE Your DUCO Blue Blocking Glasses:
1. They provide maximum blue light protection.
2. Our classic unisex frame design, comfortable and sturdy, has you looking stylish while protecting your eyes.
3. Need optical lenses? No problem! Our frames can also be fitted with custom lenses at any optometrist.
4. Our lenses are made of a zero-pigment base, maintaining high light transmittance and reducing glare.
5. Gift style package includes box, glasses case, superfine cloth pouch, cleaning cloth, and mini screwdriver.​
Don't hesitate! Say goodbye to eye strain and blue light. Start protecting your eyes today!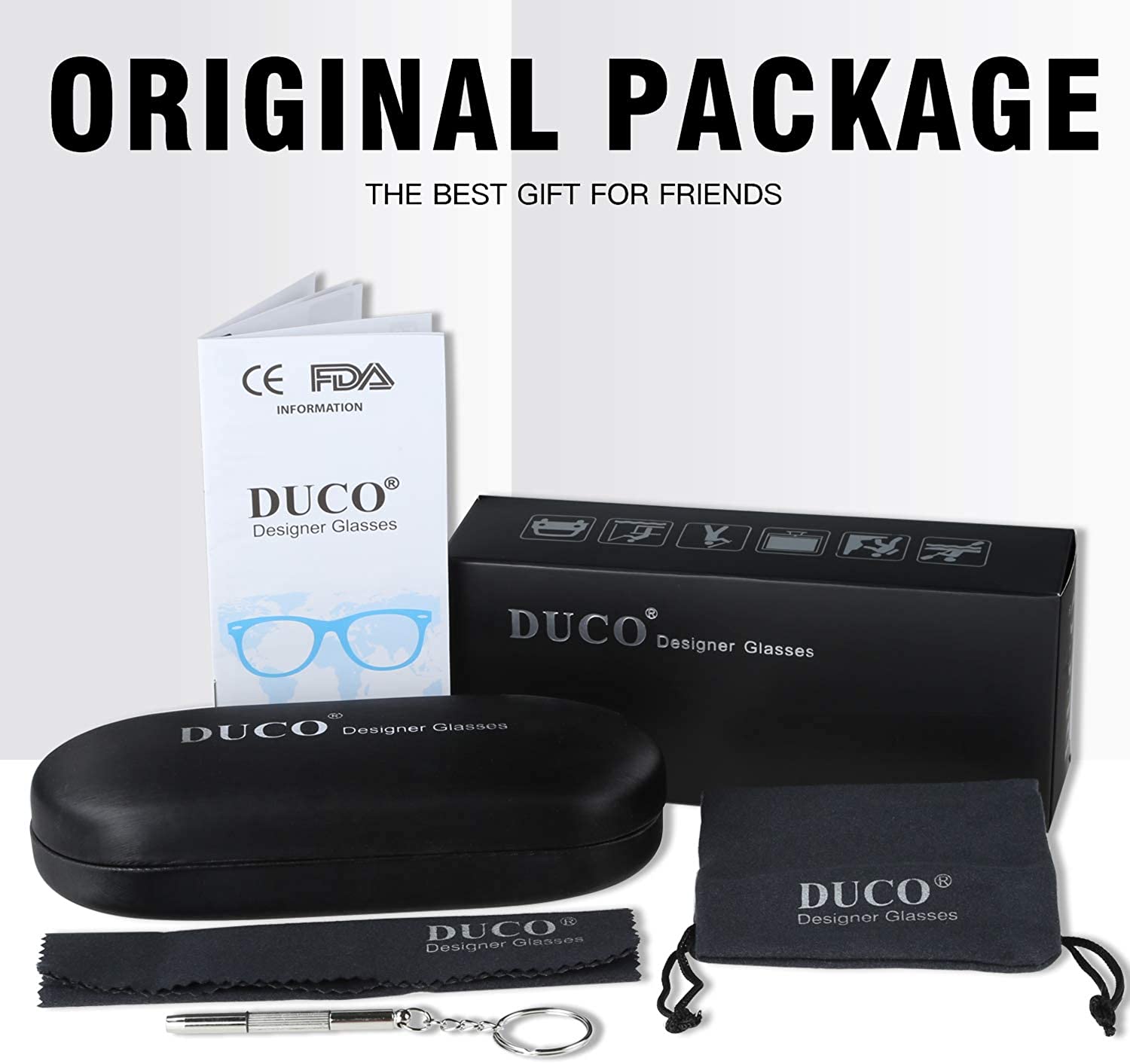 Comfort and cute
Love how light weight they are and so cute. They don't squeeze my head either. I wear Them 8 hours a day. Cannot explain how amazing.
A little thin
Glasses are cute, they're very thin and dainty, comes with a really nice case
Worth the money
Perfect for a round face like me. Make me look good with these glasses
Lovely product
I used this product to put my prescription lens in my optometrist had no issues and they fit amazing and the style is absolutely gorgeous
A little too light weight but so worth it u guys
Block the light and look so trendy