Ilise
Regular Price

$28.89
Sale Price

$28.89

Regular Price

$46.89
Unit Price

per
Details
Features:
😊

【GET HIGHER BLOCKING GLASSES】Healthy adults should only experience headaches a few times a year, but with so much time spent staring at electronics few are so lucky. Screen-induced eyestrain causes frequent headaches and visual fatigue, both of which impact your productivity and quality of life. Luckily, DUCO manufacturer registered lenses computer glasses filter out the harmful rays to keep you and your vision razor sharp!

😊

【LIGHT ON WEIGHT, HIGH ON QUALITY】 Our Blue blockers are designed for comfortable daily wear with durable lightweight frames and additional coatings which provide UV Light Blocking and make our lenses Anti-Scratch, Anti-Reflective, and Anti-Glare.Stylish, comfortable, lightweight and made with a high quality frame and hinges for long lasting enjoyment.

😊

【Necessary Glasses For Everyday】The screens we look at every day emit blue light which causes headaches, insomnia, eye strain, and can even lead to serious long-term retina damage. These amber color distortion lenses reduce fatigue, digital eye strain, headaches, migraines, dry eyes, and light sensitivity.Offer superior protection from harmful blue light .

😊

【PROTECT YOUR EYES FOR HEALTHY AND SLEEPLING】 Blue light drastically inhibits melatonin which affects mood, focus, and especially sleep patterns. Just 2 hours of blue light exposure a day can make it harder to fall asleep and stay asleep. Our glasses offer twice the protection so that you can enjoy using all your digital devices without worrying about eye strain, fatigue, or disrupting your sleep.

😊【30 DAY MONEY BACK GUARANTEE】 100% satisfaction guaranteed. We at DUCO pride ourselves on not only quality products, but world-class customer service. If you are not happy with DUCO glasses within the first 30 days, simply tell us. We offer a full refund, no questions asked.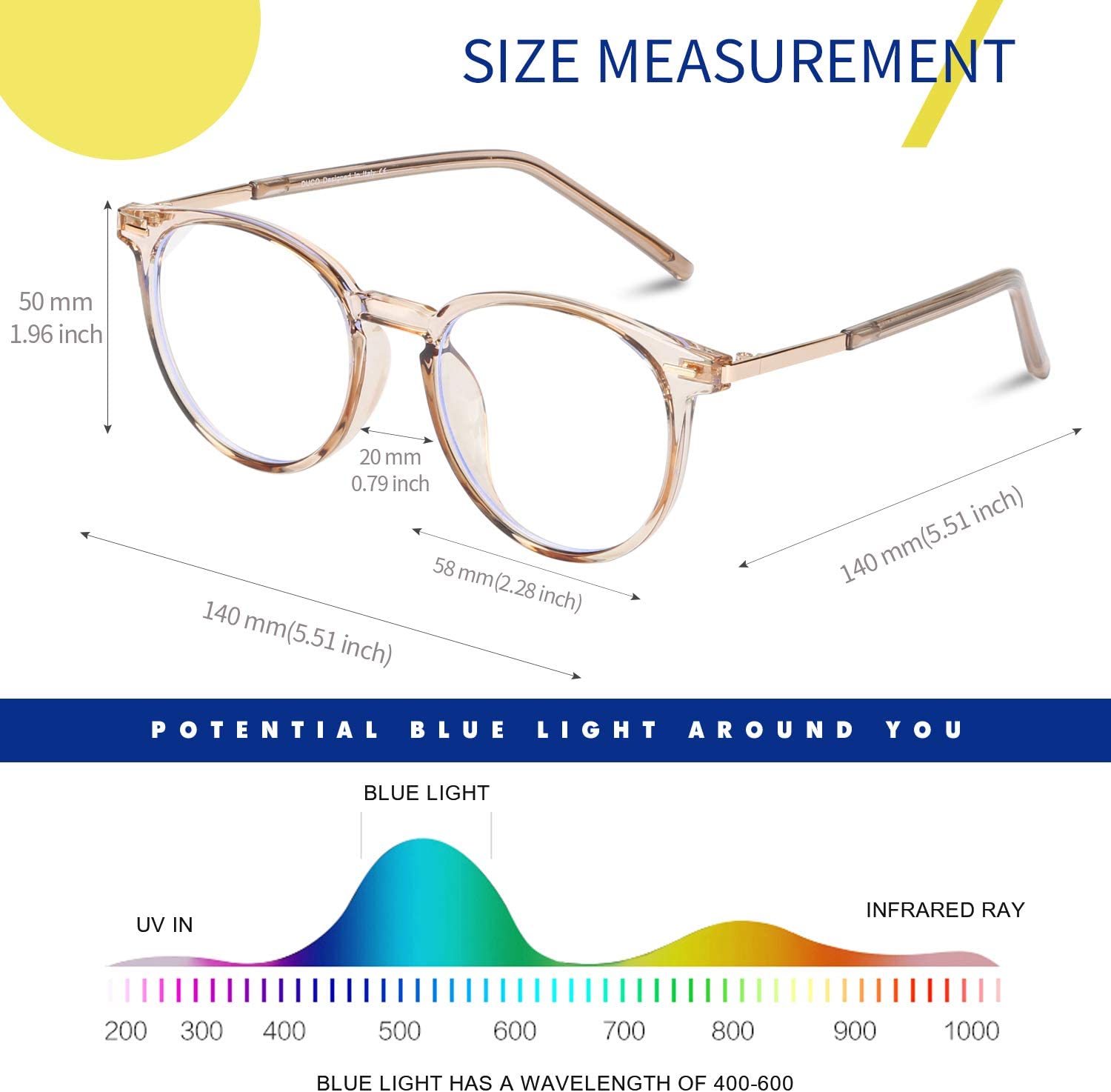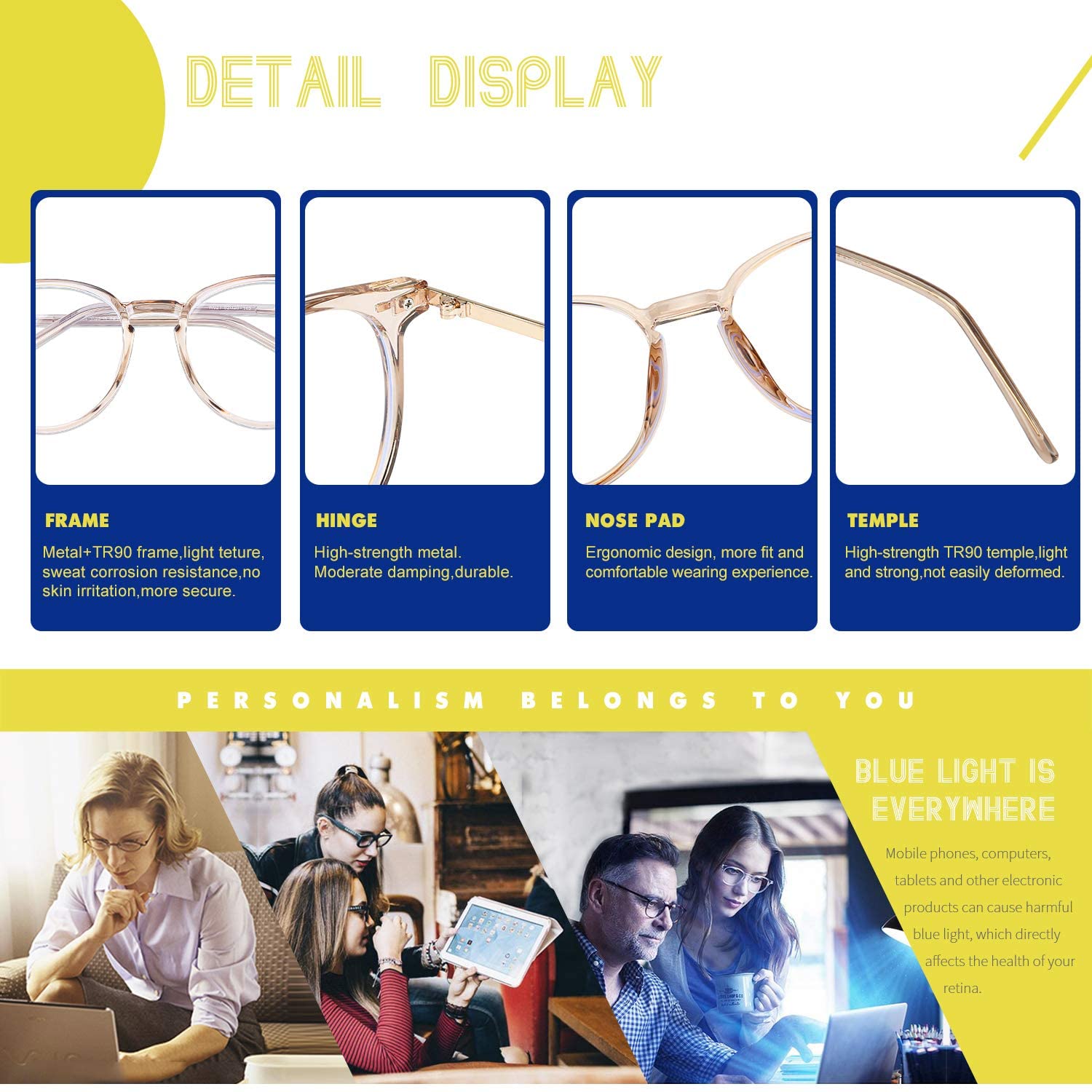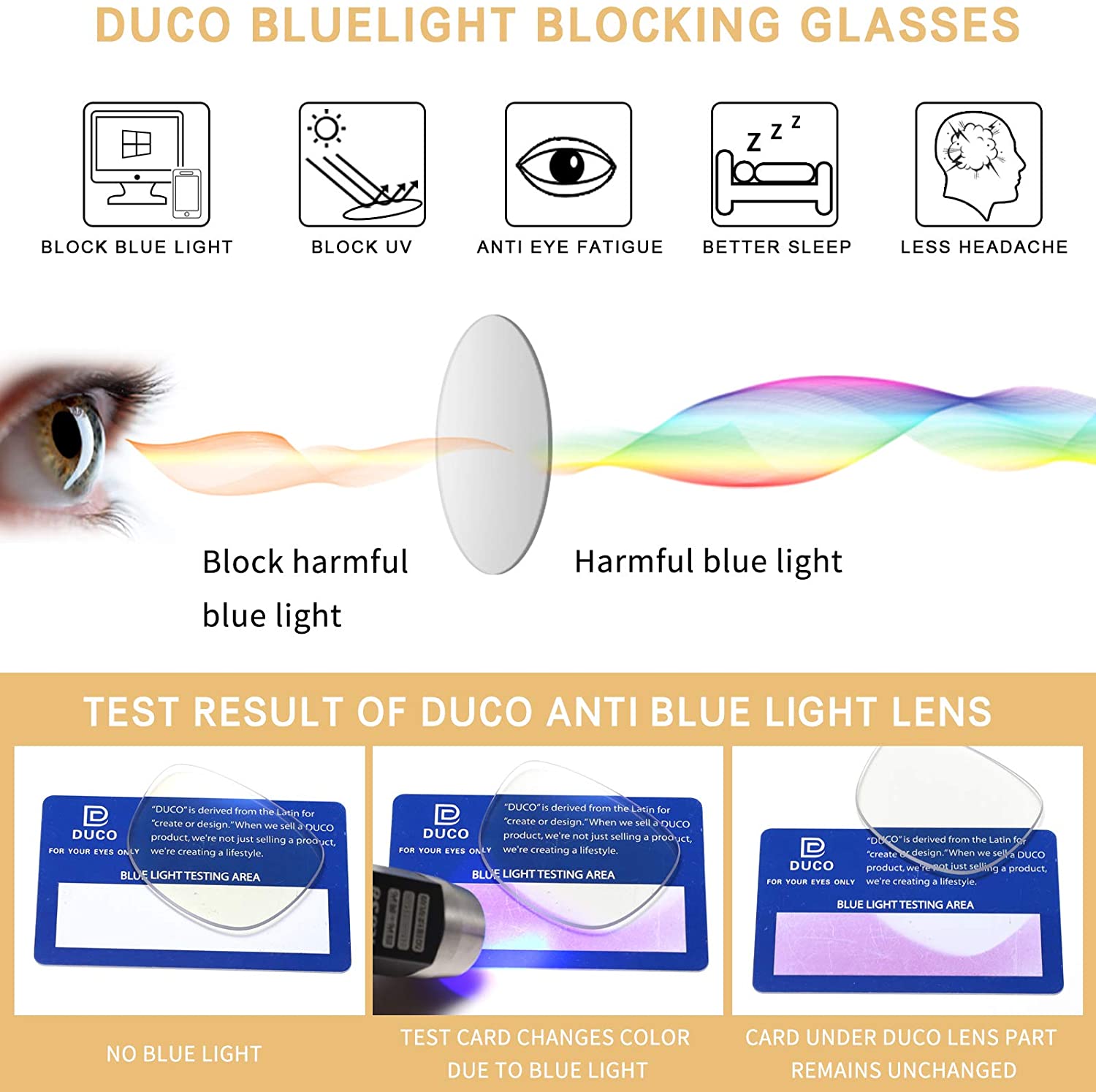 How do DUCO blue light blocking glasses help you?
First, Protect the Eyes!
DUCO blue light blocking glasses reduce eye strain, reduce eye fatigue, and improve work efficiency.
Second, Soothe the Screen
Do you suffer headaches from too much screen time?
DUCO blue light blocking glasses make screen time easier on the eyes by--you guessed it!--blocking the detrimental blue light without interfering with normal vision.
Third, Relax!
DUCO blue-blocking lenses reduce blue-light-induced trouble sleeping.
While the unfiltered light from most screens tends to disrupt melatonin production and circadian rhythms, DUCO glasses block the brain-confusing colors, thus helping ensure restful sleep.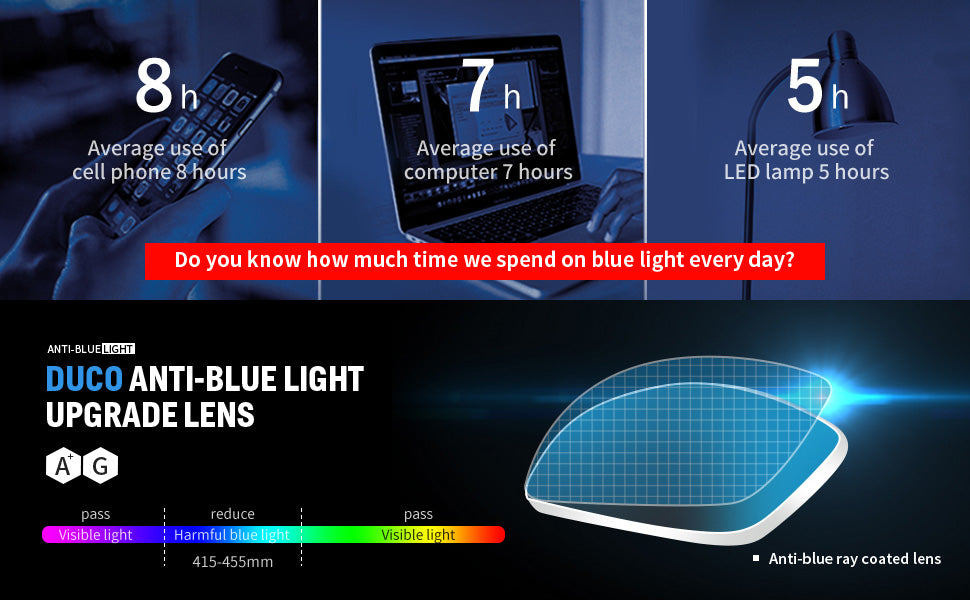 Here are 5 Reasons You're Going to LOVE Your DUCO Blue Blocking Glasses:
1. They provide maximum blue light protection.
2. Our classic unisex frame design, comfortable and sturdy, has you looking stylish while protecting your eyes.
3. Need optical lenses? No problem! Our frames can also be fitted with custom lenses at any optometrist.
4. Our lenses are made of a zero-pigment base, maintaining high light transmittance and reducing glare.
5. Gift style package includes box, glasses case, superfine cloth pouch, cleaning cloth, and mini screwdriver.​
Don't hesitate! Say goodbye to eye strain and blue light. Start protecting your eyes today!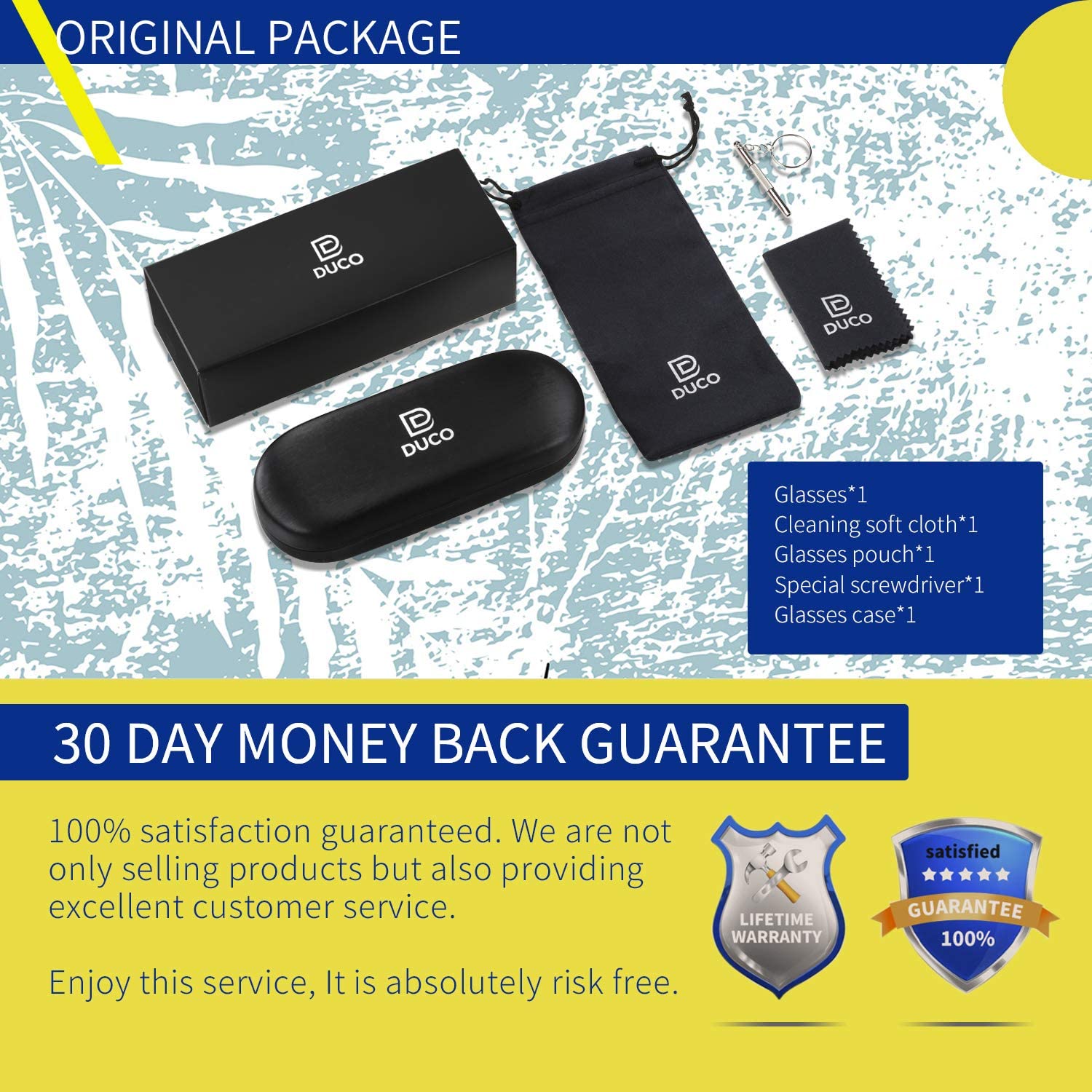 Super cute and functional!
These glasses are really great! I work in retail and stare at a computer screen for 8-14 hours a day. I've been using these every day for the past few days and so far I've noticed I have been sleeping better and my eyes don't feel as tired after my shift is over!
These frames are pretty big, but I think they are super cute. I bought another pair of Duco glasses that are smaller but aren't as comfortable. These are very lightweight! They have a slight yellow tint to them, but it's not very noticeable. It took me maybe a day or two to get used to them, but that might be because I don't normally wear glasses so I wasn't used to looking through lenses. Now I have no issue with them. I would definitely recommend if you are staring at a screen constantly!