Fitzory
Regular Price

$28.89
Sale Price

$28.89

Regular Price

$48.89
Unit Price

per
Details
Features:
😃【Protect eye health】These uniquely designed computer glasses include special anti-blue light lenses to block harmful blue light in life, such as blue light produced by computer screens, games, smartphones, etc., and reduce glare. Greatly alleviate the visual discomfort and fatigue caused by the screen. Improve blurred vision, eye fatigue or headaches, and give your eyes a proper rest.

😃【Unique Fashion Design】Unique anti-blue glasses design, multi-layer filter lens, scratch-resistant, more wear-resistant, metal temples perfectly fit your face shape, and hypoallergenic materials are more skin-friendly. You can use it to enjoy web surfing time.

😃【Eye protection guards】Duco blue light-emitting glasses use multi-layer filter lenses, which can prevent the high energy blue light from computers, mobile phones, and other smart electronic devices, reduce eye fatigue, and protect your eye health.

😃【Comfortable wearing】Lightweight and durable. These stylish blue light blocking glasses fit well both for small faces and big heads because of adjustable temples and nose guards. You can wear our glasses for long periods in front of digital screens or your upcoming trip out of town.

😃【Relax to buy】100% satisfaction guaranteed. What you buy is not only Duco products but also high-quality after-sales service. If you have any questions, please feel free to contact us and we will provide you with a refund or exchange service.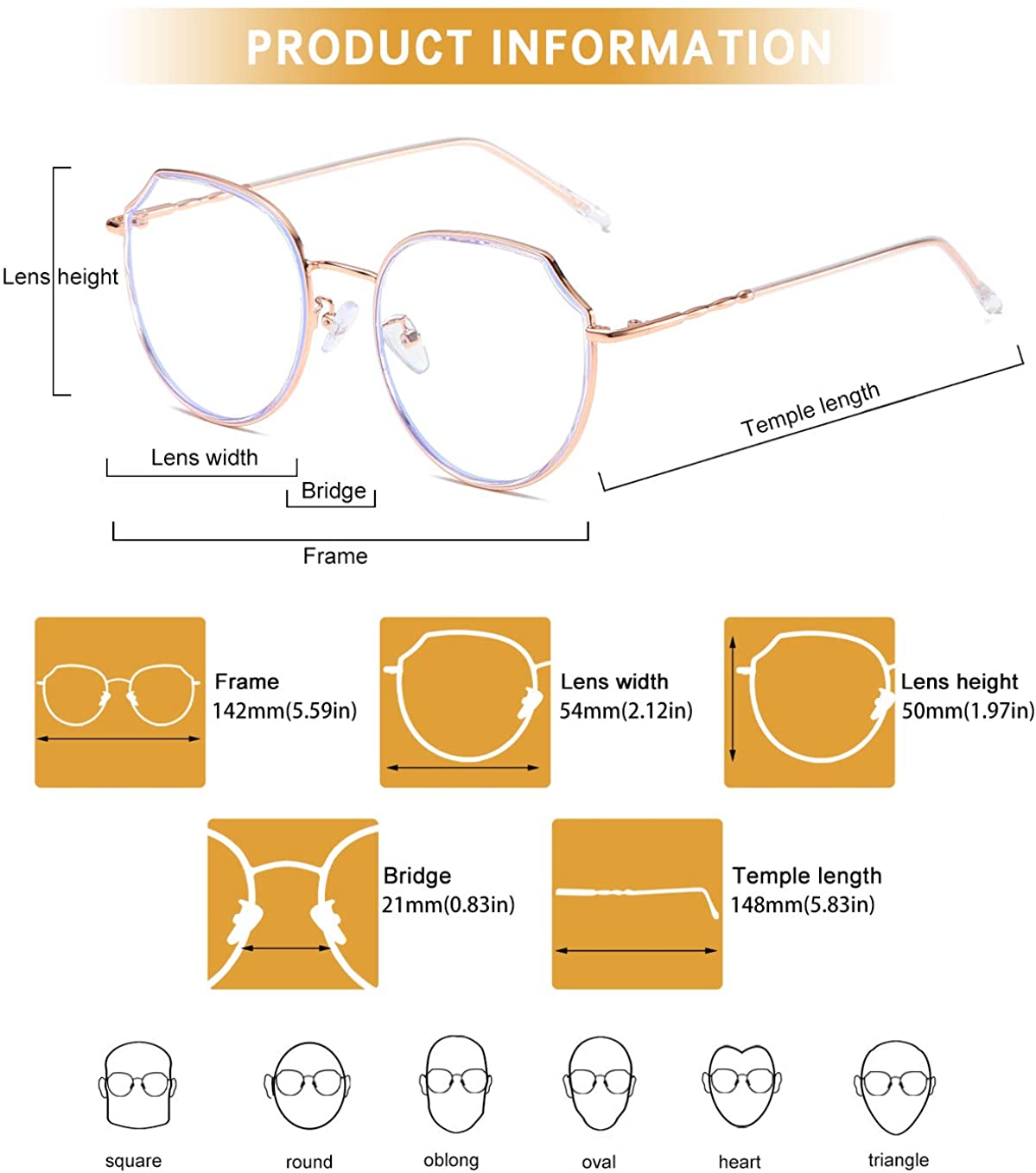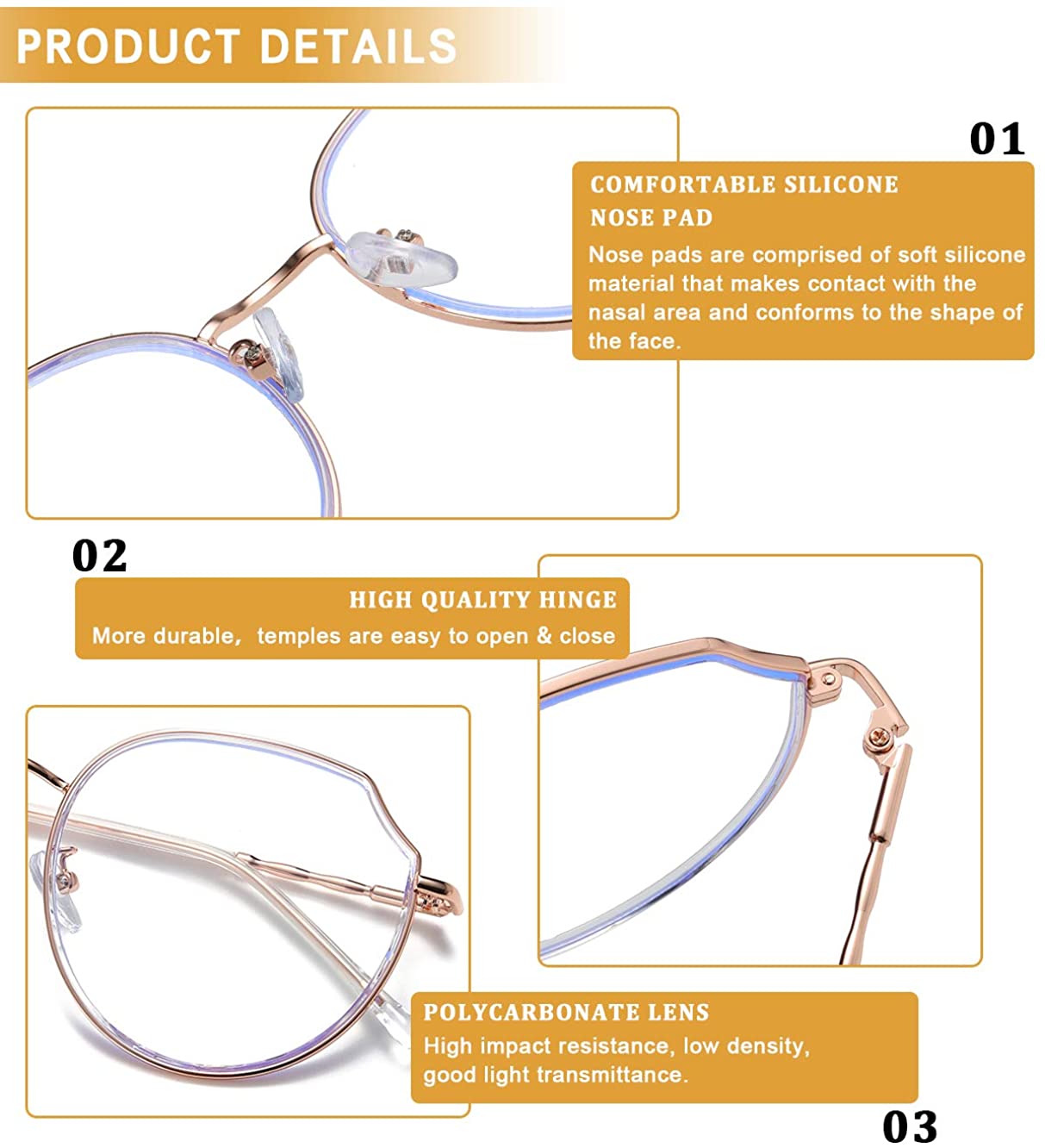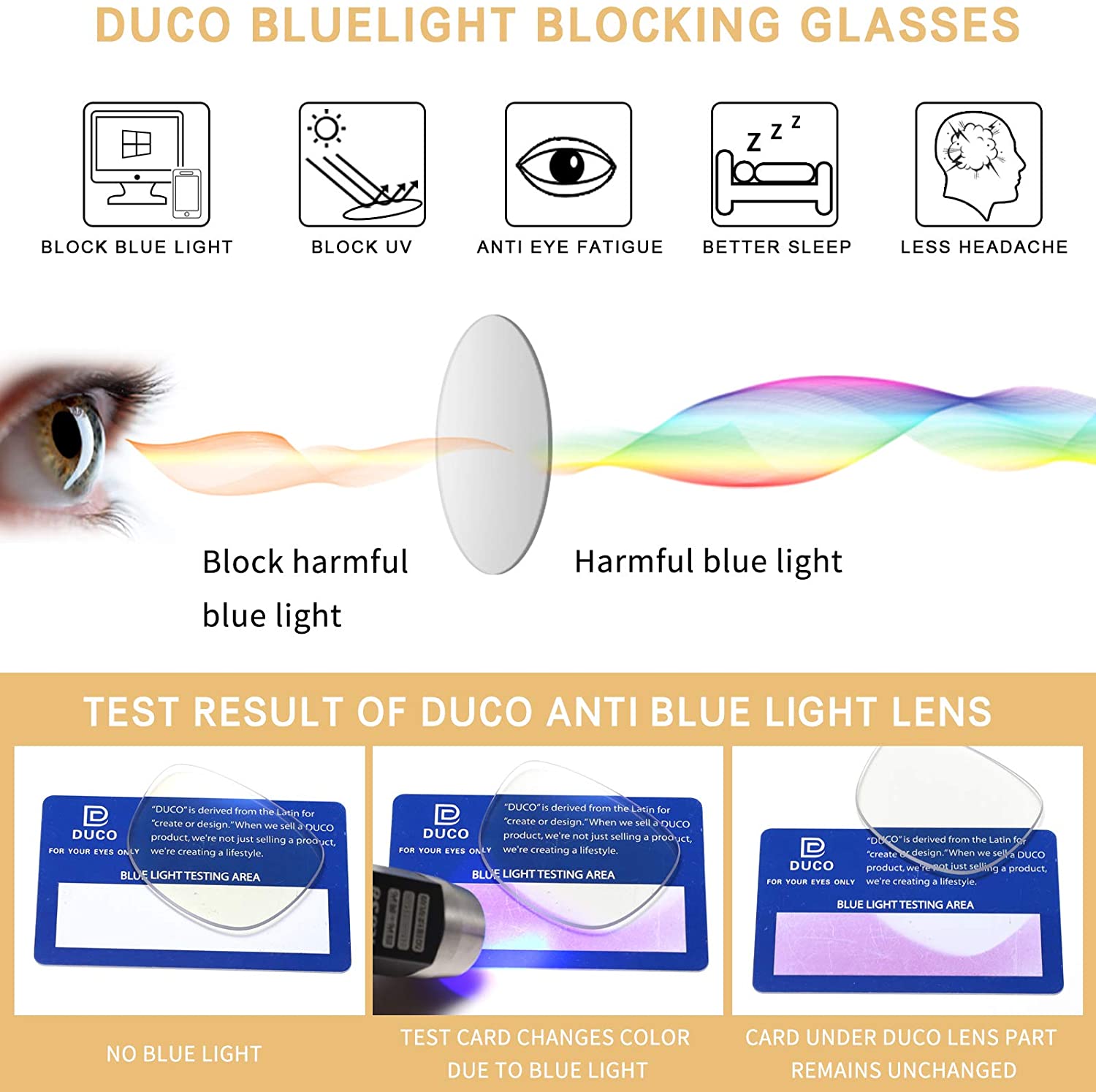 How do DUCO blue light blocking glasses help you?
First, Protect the Eyes!
DUCO blue light blocking glasses reduce eye strain, reduce eye fatigue, and improve work efficiency.
Second, Soothe the Screen
Do you suffer headaches from too much screen time?
DUCO blue light blocking glasses make screen time easier on the eyes by--you guessed it!--blocking the detrimental blue light without interfering with normal vision.
Third, Relax!
DUCO blue-blocking lenses reduce blue-light-induced trouble sleeping.
While the unfiltered light from most screens tends to disrupt melatonin production and circadian rhythms, DUCO glasses block the brain-confusing colors, thus helping ensure restful sleep.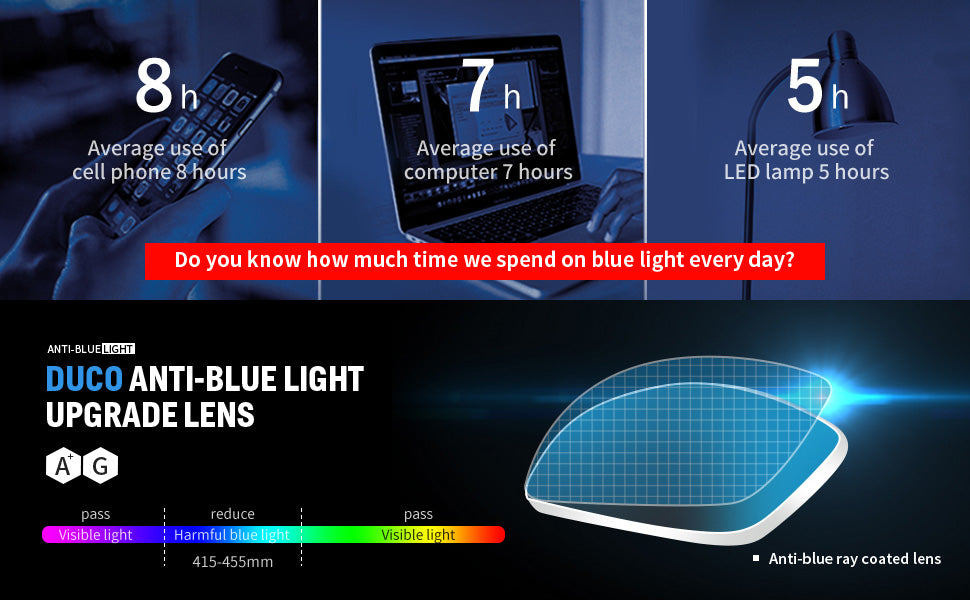 Here are 5 Reasons You're Going to LOVE Your DUCO Blue Blocking Glasses:
1. They provide maximum blue light protection.
2. Our classic unisex frame design, comfortable and sturdy, has you looking stylish while protecting your eyes.
3. Need optical lenses? No problem! Our frames can also be fitted with custom lenses at any optometrist.
4. Our lenses are made of a zero-pigment base, maintaining high light transmittance and reducing glare.
5. Gift style package includes box, glasses case, superfine cloth pouch, cleaning cloth, and mini screwdriver.​
Don't hesitate! Say goodbye to eye strain and blue light. Start protecting your eyes today!
Worth it
Great blue- light blocking glasses that are super cute. They do create a distracting glare though during zoom calls.
Cute frames but smudge easily!!
Super super cute frames. I definitely can see and feel the difference. My only complaint is that they smudge super easily however the cloth provided with the glasses does not remove smudges adequately.
Scratched
When I opened them, there was already two scratches, one fairly big and one small (not visible in pic). I love the style, but it sucks that they are literally scratched being brand new....
Light weight, work for their purpose. Cute.
I really like these lightweight glasses. They are delicate, easy to scratch. I slightly scratched it just removing the sticker on the lense. But I like the look and design and the kit comes with a blue light mini flashlight to prove these are authentic blue light blocking.
Plastic
Very fragile and low quality plastic