FEATURES
TR90 frame
anti-reflective lens
Polarized
Full UV400 protection
About DUCO Polarized Sunglasses
DUCO polarized lenses are manufactured with high quality raw materials in Japan to produce a lens with excellent optical quality that is ultra-lightweight, tough, and scratch resistant.
All DUCO sunglasses lenses pass a double decentering test and FDA to ensure they meet the highest standards of visual clarity with no optical distortion which can cause eye strain and headaches.
Polarized sunglasses reduce glare reflected off of roads, bodies of water, snow, and other horizontal surfaces; restore true color, eliminate reflected light and scattered light and protect eyes perfectly; polarized sunglasses cut glare and haze, so your eyes are more comfortable and you can see better.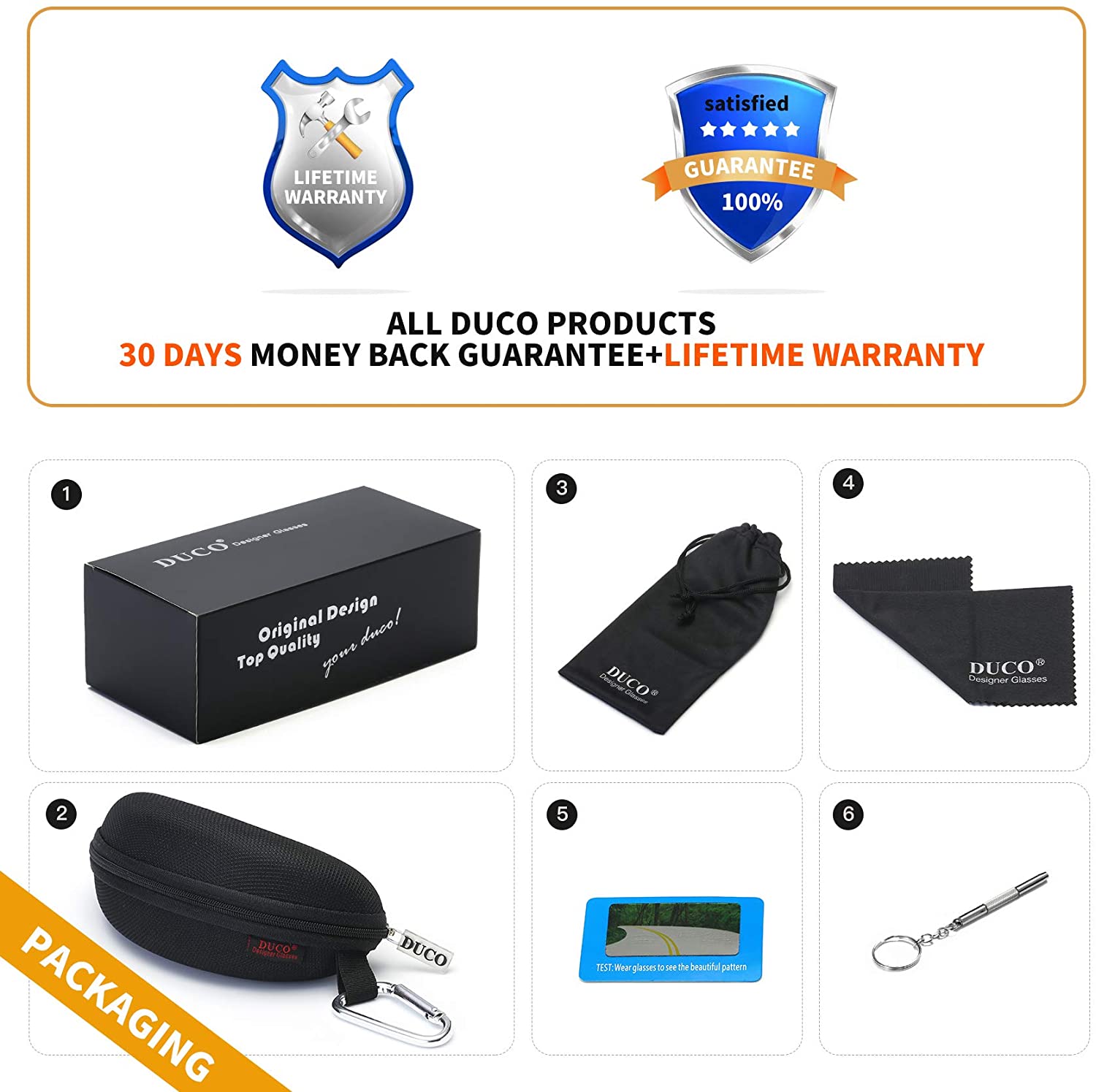 Package
1x Sunglasses, 1x Glasses Case, 1x Soft Glasses Cloth, 1x Polarized Test Card and 1x Screwdriver
Tips

1. Never clean your sunglasses with paper towels or clothing, which can leave scratches.
2. Never leave your sunglasses under car's front window, especially in summer. Prolonged exposure to the oven-like temperatures inside a car can degrade the lens.
Powered by Real people on Instagram worldwide.
Look good while seeing good
Gift for my beloved. He now looks hot and feels cool when out in the sun for a fraction of the price of the prescription sunglasses they replaced. He is delighted, these have a bit of style compared to the old geezer ones we got a while back at the drug store (yuch).
Amazing Value..
They are Fantastic...And fit over your glasses So well...No One would know that you had glasses on.....
AWESOME OVER PRESCRIPTION SUNGLASSES
I just love these sunglasses. They fit over my presription glasses perfectly. Will probably get another pair after I deal with the Christmas bills. Probably by the end of this year. LOL. :). Thank you Duco. :)
better than expected
When I first donned these sunglasses I thought I'd made a bad purchase - they didn't seem dark enough to filter sunlight. Yet they do. I can see more with them than my other sunglasses, and don't need to shield my eyes against glare. They also come with cleaning cloth, a baggie, a zipper case.
Too large
Large and unwieldy over my glasses