Pluto
Regular Price

$34.89
Sale Price

$34.89

Regular Price

$58.89
Unit Price

per
Details
Features:
🌲【Anti-blue light lens】 Our anti-blue light glasses adopt high-end anti-blue light lens, which can effectively filter multiple glare, block the harmful blue light hazard to the human body, reduce eye fatigue, headaches, etc. so that your sleep quality can be improved.

🌲【Advanced Filter】 Our glasses use multiple layers of blue filter coating on the inside and outside to help you effectively block eye fatigue when watching TV, working on a computer or playing games, or reading on a mobile phone. Fully enjoy your digital life time.

🌲【HANDCRAFTED WOOD GLASSES】 Designed from 100% natural wood ,the wood texture makes it look more classic.Every pair is durable and unique. For every purchase, factory will plant more trees, feel great for saving the environment in this wood computer glasses.

🌲【IMPROVE YOUR SLEEP】 Blue light inhibits melatonin production, which affects mood, focus, and especially sleep patterns. Our glasses offer incredible protection so you can enjoy using all your digital devices without worrying about eye strain, fatigue, or disrupting your sleep.

🌲【30 DAY MONEY BACK GUARANTEE】 100% satisfaction guaranteed. We at DUCO pride ourselves on not only quality products, but world-class customer service. If you are not happy with DUCO glasses within the first 30 days, simply tell us. We offer a full refund, no questions asked.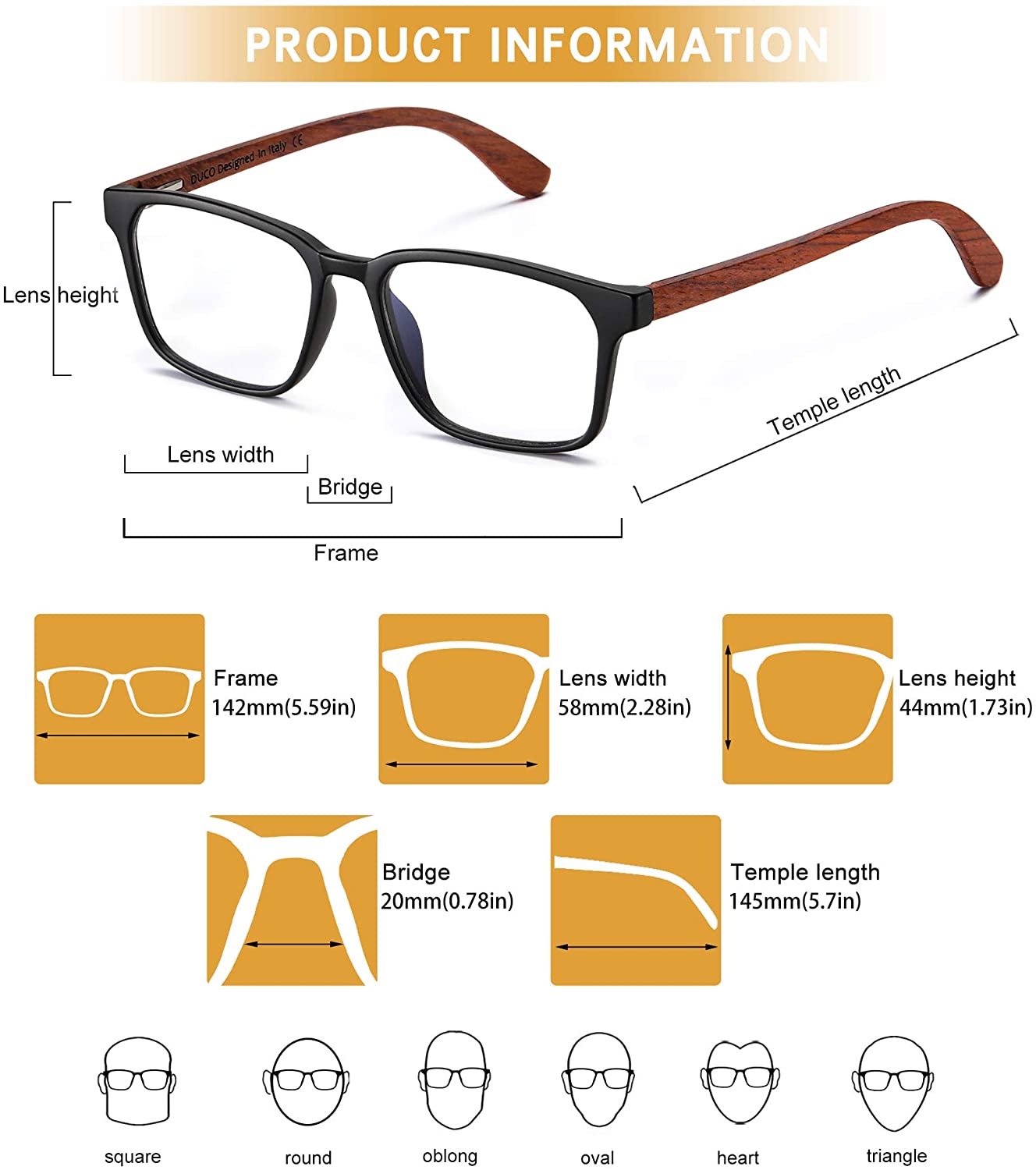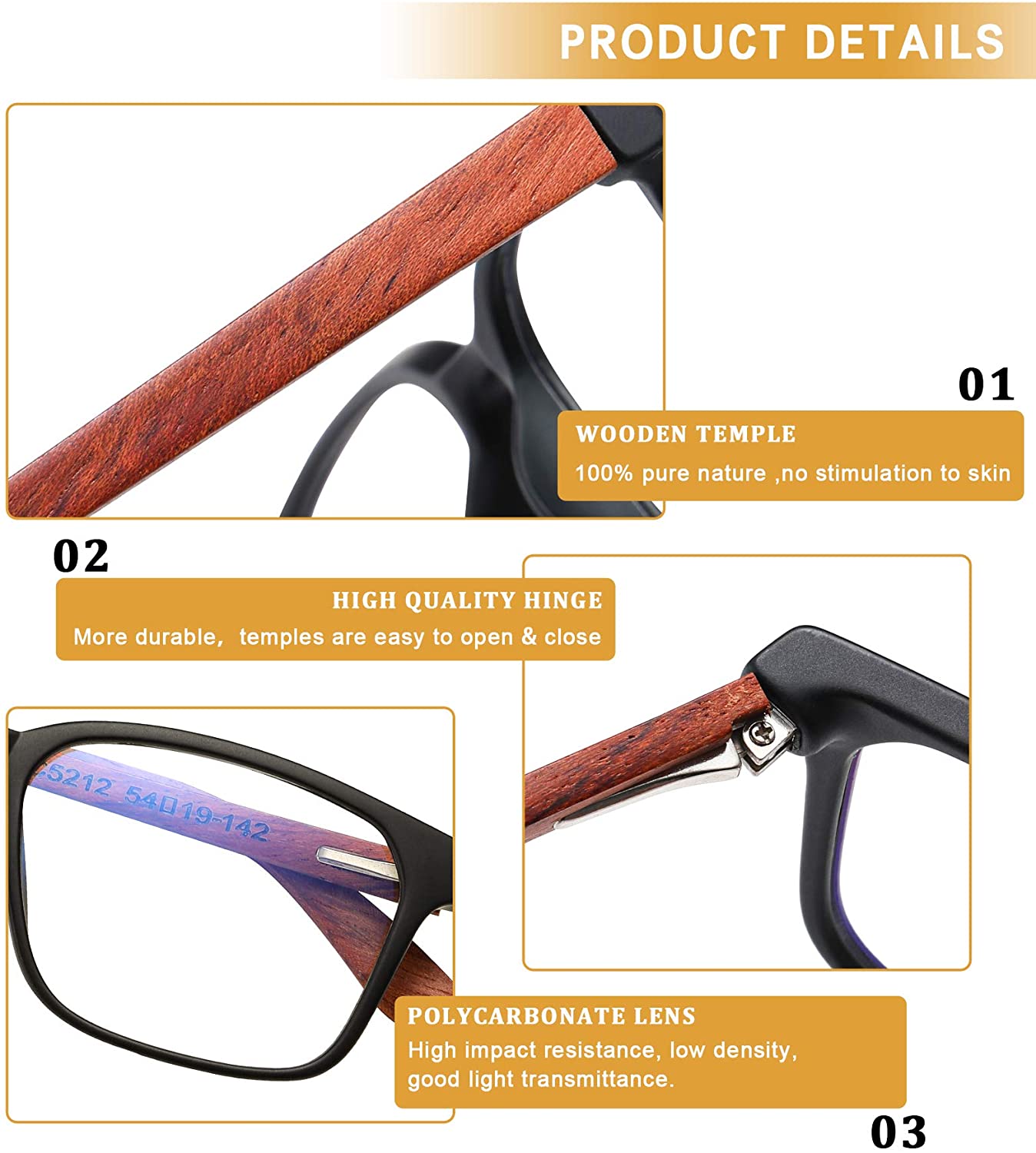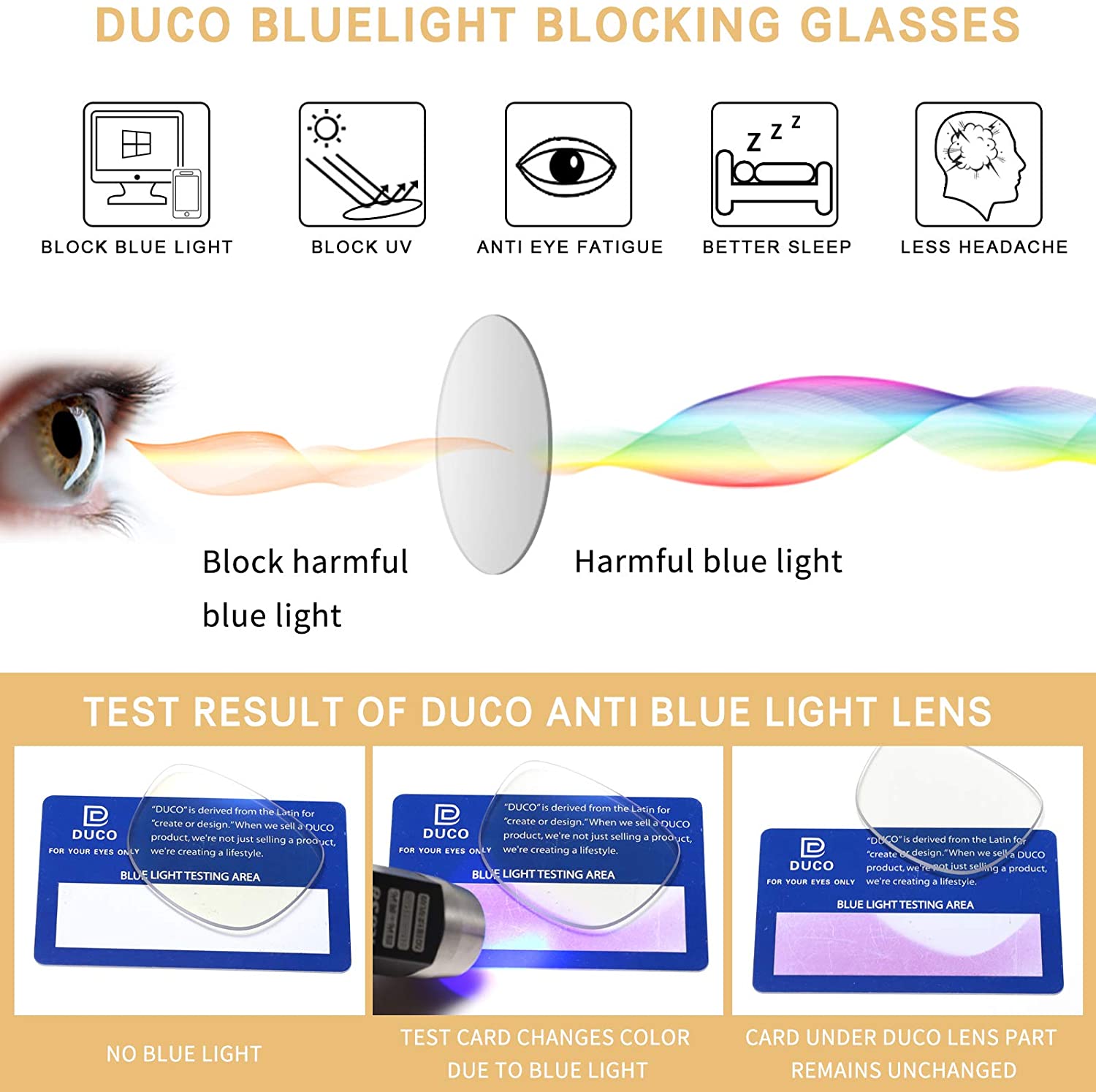 How do DUCO blue light blocking glasses help you?
First, Protect the Eyes!
DUCO blue light blocking glasses reduce eye strain, reduce eye fatigue, and improve work efficiency.
Second, Soothe the Screen
Do you suffer headaches from too much screen time?
DUCO blue light blocking glasses make screen time easier on the eyes by--you guessed it!--blocking the detrimental blue light without interfering with normal vision.
Third, Relax!
DUCO blue-blocking lenses reduce blue-light-induced trouble sleeping.
While the unfiltered light from most screens tends to disrupt melatonin production and circadian rhythms, DUCO glasses block the brain-confusing colors, thus helping ensure restful sleep.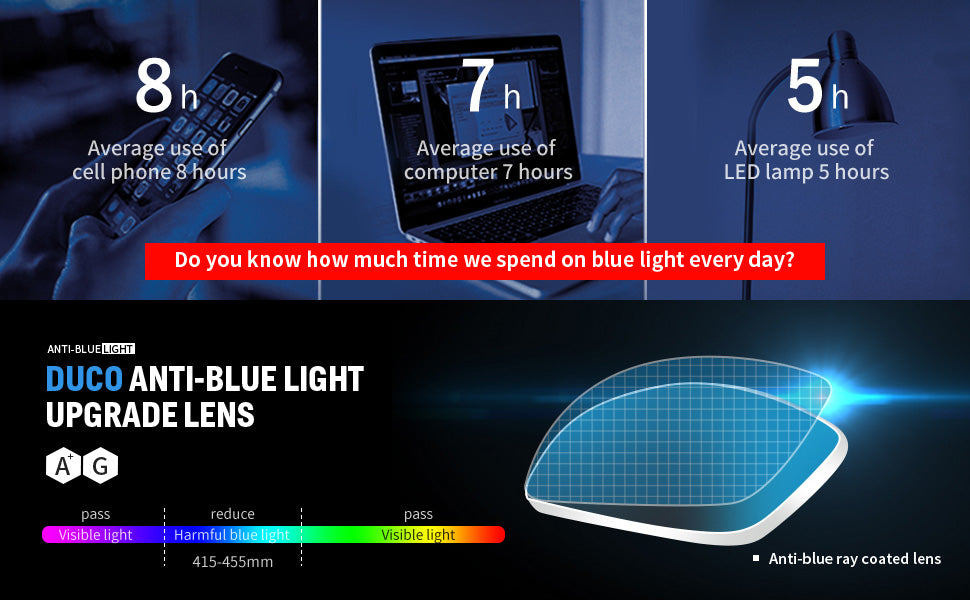 Here are 5 Reasons You're Going to LOVE Your DUCO Blue Blocking Glasses:
1. They provide maximum blue light protection.
2. Our classic unisex frame design, comfortable and sturdy, has you looking stylish while protecting your eyes.
3. Need optical lenses? No problem! Our frames can also be fitted with custom lenses at any optometrist.
4. Our lenses are made of a zero-pigment base, maintaining high light transmittance and reducing glare.
5. Gift style package includes box, glasses case, superfine cloth pouch, cleaning cloth, and mini screwdriver.​
Don't hesitate! Say goodbye to eye strain and blue light. Start protecting your eyes today!
I love them. Way more than all of my overpriced Ray-Bans
The wooden sides are very... Good looking and 'fancy'. My not a professional glasses reviewer but I can just say I feel like they seem to meld naturally to my 'look' and they don't feel out of place. I was in the hospital for two weeks and they had no idea I didn't technically need them, so I was able to keep them the who time ;)
MOST IMPORTANTLY The lenses are better than the 20+ other blue light glasses I have and many glass Ray-Ban sunglasses. All of which are scratched to the point I can't stand weaning them for very long. I haven't treated these any different. Technically they've seen significantly more abuse given that I wear them almost daily.
I highly recommend them.
So far so good.
They arent my favorite frame design but they do look good and function well. Taking care not to scratch them, not sure of their durability yet!
Seems Like They Barely Work
Judging by the effects upon my eyes and how they feel after use, the poor optics and by comparing blue light from the computer monitor with these on and then off, I would say they barely work if at all for cutting blue light. I think this company (DUCO) wants to be a good company that provides cheap, good looking and functional eyewear but you still have to put top quality into products.
Just okay
Package had power on it, but product was fine inside, seemed okay maybe not best quality, they seem to work.
Seems to work
I bought these not for eye strain but thwarting the blue light, seems to work.