Hilo
Regular Price

$28.89
Sale Price

$28.89

Regular Price

$48.89
Unit Price

per
Details
Features:
Arm: 138 millimeters

😊【Anti-blue light lens】 Our anti-blue light glasses adopt high-end anti-blue light lens, which can effectively filter multiple glare, block the harmful blue light hazard to the human body, reduce eye fatigue, headaches, etc. so that your sleep quality can be improved.

😊【The best choice for daily commuting】: Our blue blocking reading glasses have a classic and fashionable look, which is very suitable for daily commuting, allowing you to enjoy your surfing time without fear of the blue light emitted by computers, ipad, and smartphones.

😊【Product size】: Frame:141mm(5.55inches)| Lens width: 61mm(2.40inches)| Lens height: 47mm(1.85inches)| Bridge:19mm(0.74inches)| Temple length:138mm(5.43inches)

😊【Low chromatic aberration lenses】: Our anti-blue light glasses are equipped with low chromatic aberration lenses, without strong coloration, which can achieve the perfect balance of visual clarity, style and function, so that you can accurately perceive and understand the world even wearing glasses.

😊【Lifetime warranty service】: If you buy DUCO anti-blue glasses, you don't have to worry about any problems, we promise that we will help you solve any problems you need. You can contact us at any time and we will serve you wholeheartedly.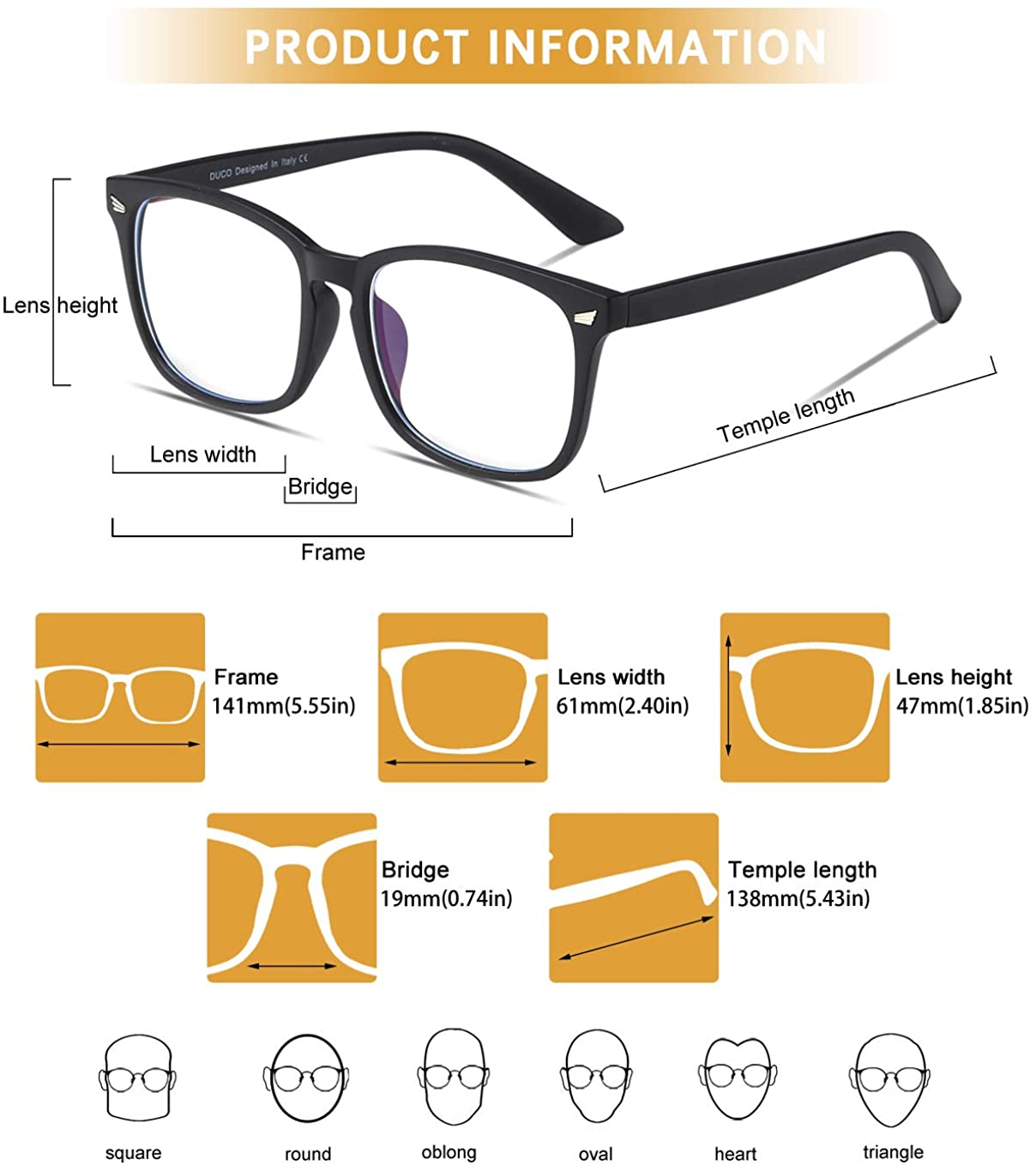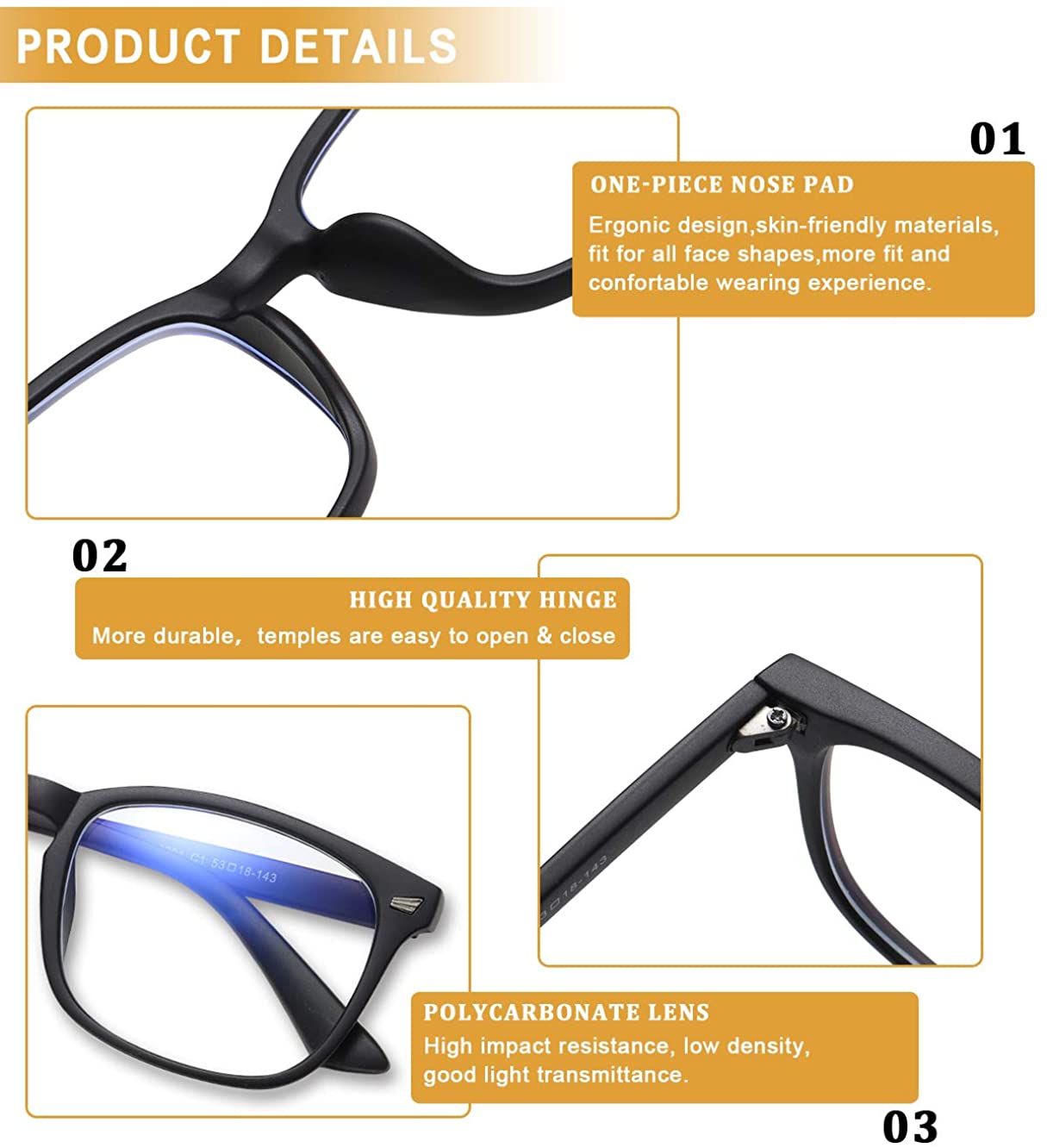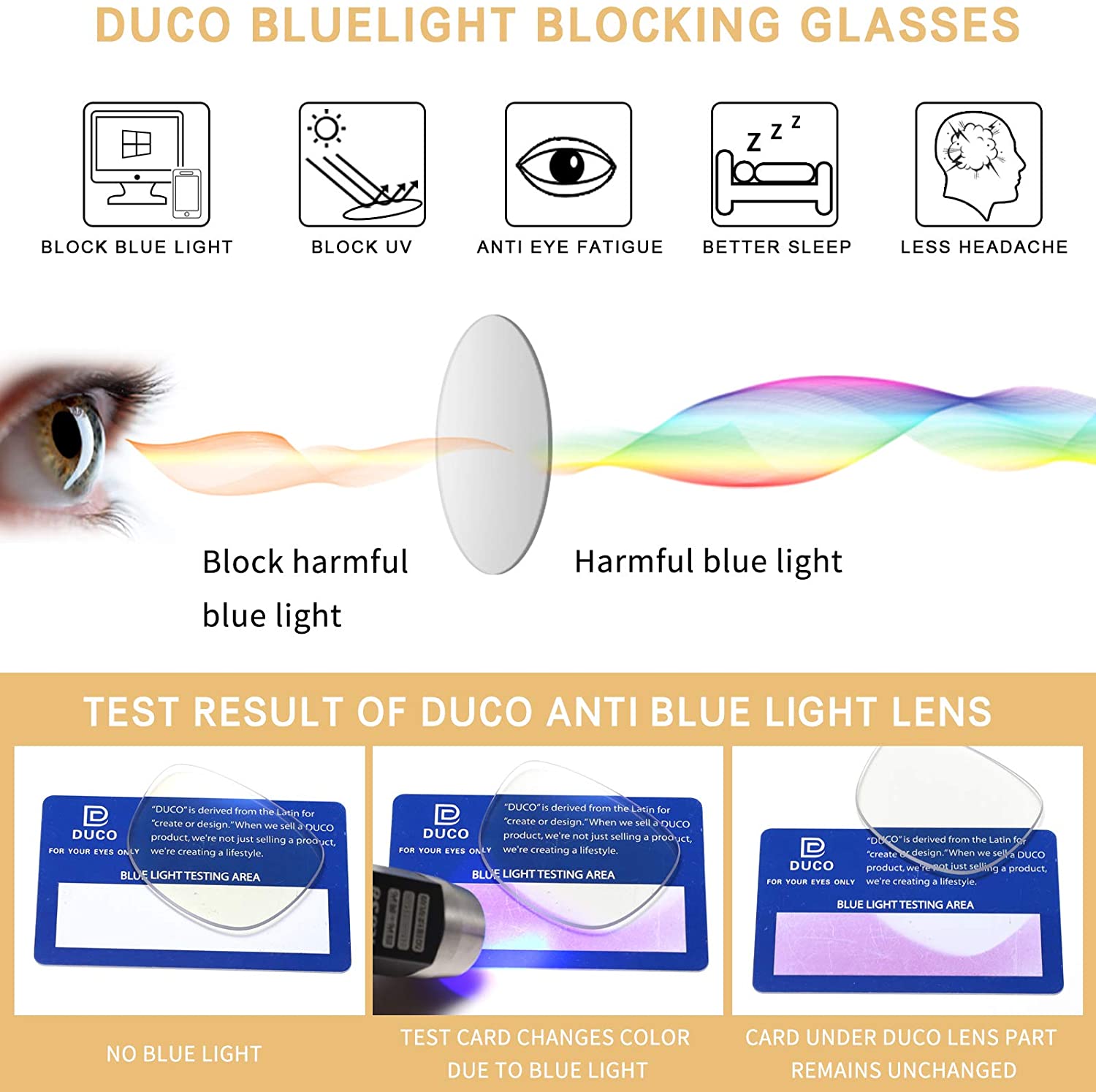 How do DUCO blue light blocking glasses help you?
First, Protect the Eyes!
DUCO blue light blocking glasses reduce eye strain, reduce eye fatigue, and improve work efficiency.
Second, Soothe the Screen
Do you suffer headaches from too much screen time?
DUCO blue light blocking glasses make screen time easier on the eyes by--you guessed it!--blocking the detrimental blue light without interfering with normal vision.
Third, Relax!
DUCO blue-blocking lenses reduce blue-light-induced trouble sleeping.
While the unfiltered light from most screens tends to disrupt melatonin production and circadian rhythms, DUCO glasses block the brain-confusing colors, thus helping ensure restful sleep.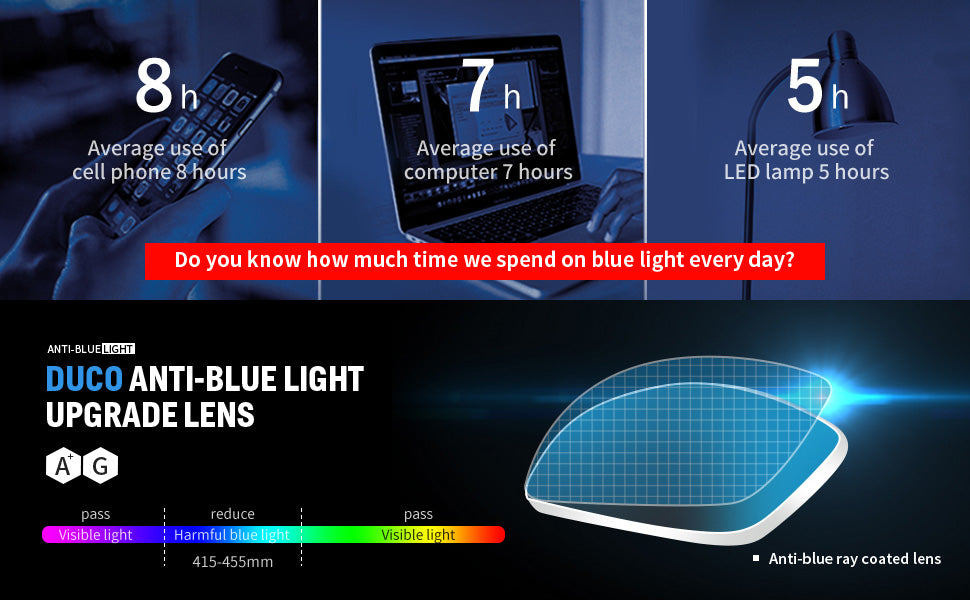 Here are 5 Reasons You're Going to LOVE Your DUCO Blue Blocking Glasses:
1. They provide maximum blue light protection.
2. Our classic unisex frame design, comfortable and sturdy, has you looking stylish while protecting your eyes.
3. Need optical lenses? No problem! Our frames can also be fitted with custom lenses at any optometrist.
4. Our lenses are made of a zero-pigment base, maintaining high light transmittance and reducing glare.
5. Gift style package includes box, glasses case, superfine cloth pouch, cleaning cloth, and mini screwdriver.​
Don't hesitate! Say goodbye to eye strain and blue light. Start protecting your eyes today!
Great glasses !
I once won your glasses through a competition. I was so impressed about how resistant it was(I always use to drop it, I even step on it ... I believe it was an old design). I began to be curious about the brand so I searched on the internet and I found your website. I bought another one for me and my little sister (very happy of my purchase). I use to try other brands I was disappointed(fragile, expensive and no quality).
Buy them
Loves these, they look amazing. I get so many compliments.
Love them!
Love them! I don't wear glasses in general. These are light weight, and don't hurt behind the ears. I love the colors of them as well. Seem to do a good job at helping with the blue light
Great & a half
Cut my headaches in half, comfortable & look great 👍 👌
Just what the Dr. ordered!
These are perfect for me and my husband for TV, computer, or Kindle. Blue light blocking is recommended by our opthamologist.